Books
COUPLES WHO PRAY:
Every book personally signed by the authors
Overview
The most intimate act between a man and a woman is prayer!   And praying daily with the one person you love more than any other takes you to a level of joy and satisfaction that you simply will not believe until you try it.
NYT Bestselling authors SQuire Rushnell and his wife Louise DuArt, know firsthand what praying together as a couple can do.  They were amazed at the happiness and harmony this simple act brought to their relationship. With the confirmation of groundbreaking, never previously published research from Baylor University, SQuire and Louise developed "The Partnered Prayer Challenge" and step-by-step, have guided other couples through this process.
Couples Who Pray has everything you and your partner need to begin a more intimate, rewarding relationship, including simple tips that can make your marriage the best it has ever been.
Paperback or Hardcover
---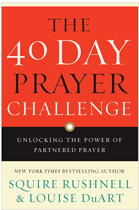 40 DAY PRAYER CHALLANGE:
Every book personally signed by the authors
Overview
From one of the beloved creators of Schoolhouse ROck and the popular GodWink series, New York Times bestselling author SQuire Rushnell teams up with his wife Louise DuArt for The 40 Day Prayer Challenge – a simnple yet powerful idea that encourages partners to pray together for just five minutes a day for forty days.
SQuire and Louise have practiced daily prayer together for two decades.  Now, they offer readers step-by-step advice on where, when and what words to use in praying with another person: be it a spouse, loved one, family member, or a friend.  In a straight-forward fashion, with astonishing examples of how Partnered Prayer can restore relationships and revitalize families, countless questions are answered including:
How do we start praying together?
Can we pray about anything?
Paperback or Hardcover
How do I get my mate to pray with me?
Does romance get better when you pray together?
Is there scientific evidence for prayer?
What if my prayers aren't answered?
In association with several prominent mega-churches and Baylor University's Institue for the Studies of Religion, SQuire and Louise are initiating the first empirical research study ever done on the effects of prayer among two or more people over an extended period.  The 40 Day Prayer Challenge also provides a no-cost online opportunity to participate in the ongoing study.
When the fun and transformational challenge finishes at forty days, prayer partners can compare how well they did, and join.

---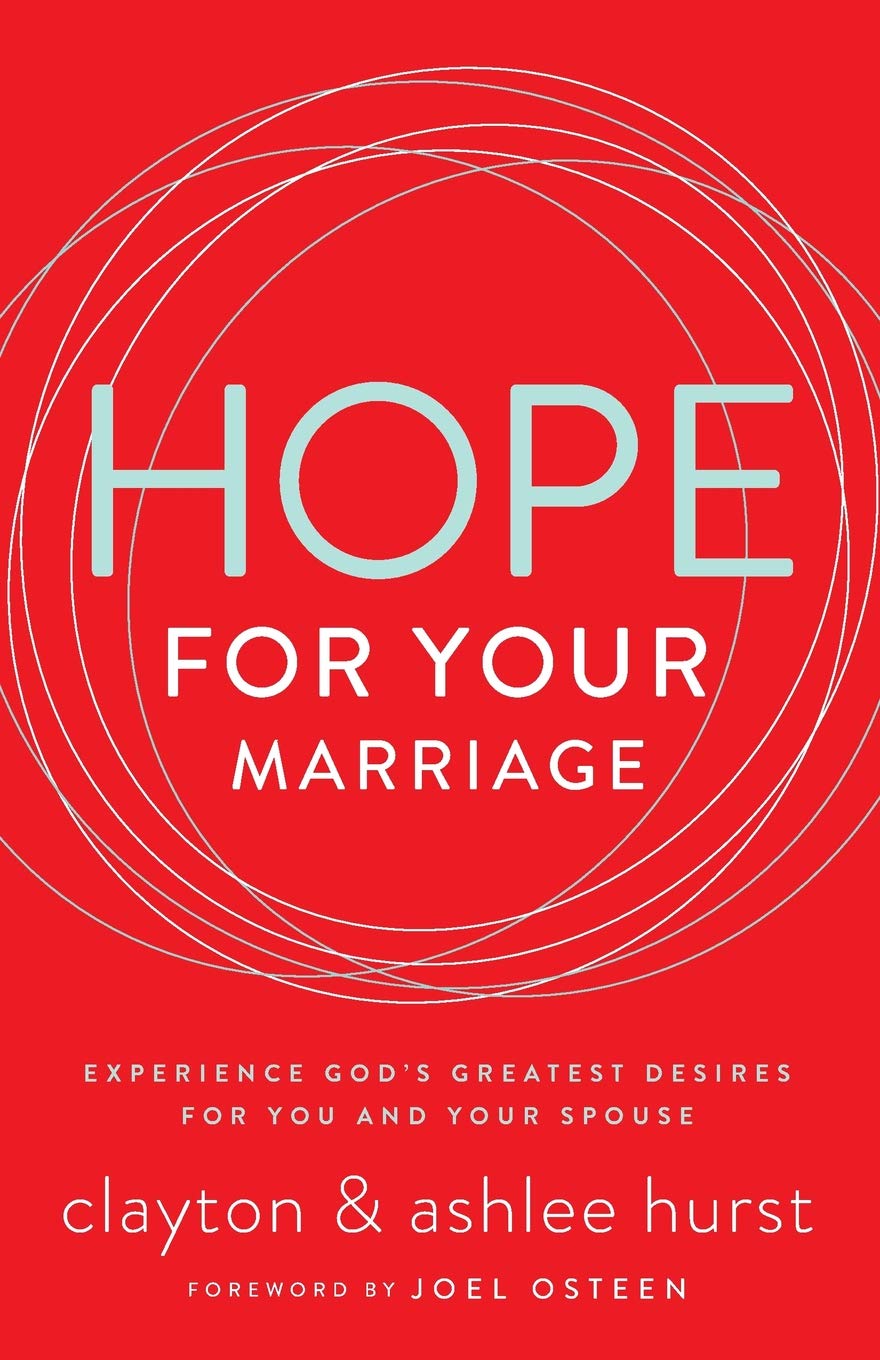 HOPE FOR YOUR MARRIAGE:
Overview
Clayton and Ashlee Hurst share the principles and Scripture they have learned to lean on and preach at Lakewood Church.  Foreword by Joel Osteen.
Are you willing to do whatever it takes to have the marriage you dreamed of? Interestingly, this is the question Clayton and Ashlee ask young couples before they get married and married couples in crisis.  If they answer yes, then there is hope for the couple.  If they are willing to commit too the hard work ahead, they have a very good shot.
Hope for Your Marriage is a book designed for couples who desire to have the best marriage possible.  Every marriage has the potential to be incredible when God is at the center.
Paperback
In Hope for Your Marriage, Clayton and Ashlee share personal stories on overcoming fairy-tale pitfalls; keeping Jesus at the center of your marriage; practicing healthy communication on sex, conflict, and forgiveness; declaring life over your marriage, and leaving a God-honoring legacy.
Praise for Hope for Your Marriage:
"Clayton and Ahslee Hurst are at the forefront of the marriage ministry.  This book is full of practical wisdom that's a must-read for anyone looking to grow in their marriage." – Jimmy Evans, founder and CEO, Marriage Today, Southlake, Texas.
"This book, layered with scriptures and personal stories of overcoming obstacles, will bless every couple ready to have a healthy and happy marriage with God at the center!" – DeVon Franklin, CEO, Franklin Entertainment; bestselling author.
"Whether you are a newlywed or married for decades, this encouraging book will give you. new and practical insight into how to make your marriage the best relationship in your life." – Shaunti Feldhahn, social researcher, bestselling author.